About Nice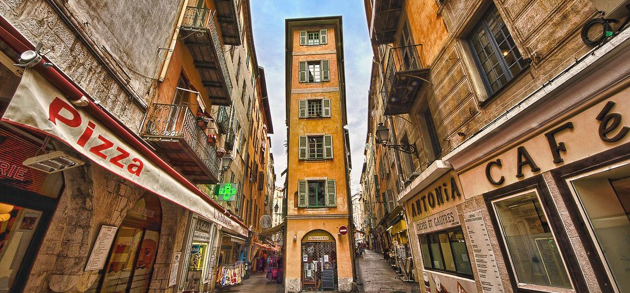 Nice Recommended
Offering an irresistible combination of year-long sunshine, snow-capped peaks, crystal-clear waters and a busy, thriving city, Nice attracts ten million business travellers and holidaymakers every year.
Nice Côte d'Azur, the city's international airport, ranks among the country's three busiest (after Paris Orly and Charles de Gaulle), with its two terminals connecting the French Riviera, Monaco and cities along the Italian border with more than 100 destinations. Nice's own transport network includes a state-of-the-art tramway under constant expansion and inexpensive local travel along the coast.
These, and thousands of other reasons ranging from pastis at sunset through sunbathing on Christmas Day make Nice a great place to spend a little - or a lot of time. Here are a few of our favourite things:
The Port
Recently renovated and re-lit with a trail of lanterns around its perimeter, the Port Lympia will soon connect directly to the airport via a new tram extension.
Bordered to the east by the vast Place Garibaldi, an Italianate square surrounded by cafés and restaurants, the neighbourhood is peppered with wine bars, bistros and trendy eateries ranging from vegan juice bars to Michelin-starred fine dining. Properties in this area have become increasingly popular and its small gay district or 'Little Marais' makes it a popular locale for weekend breaks.

The Old Town
Dating to the 15th century, when Nice formed part of Liguria, the Old Town has a distinctly Italian feel and the quaint charm of a village within a city. A perennial favourite with tourists, its narrow streets are lined with local shops, wine bars, traditional restaurants and art galleries. Eccentrically-configured, centuries-old apartments are popular with holidaymakers despite steep and narrow staircases and oddly-shaped rooms.
The Carré d'Or
Literally, the 'golden square', near Place Massena describes the area between the Promenade des Anglais and Musiciens district, west of Avenue Jean Medecin. It includes the zone pietonne (pedestrian zone), and the rues Paradis and Alphonse Carr, Nice's version of Paris's Triangle d'Or, home to the grands couturiers. This neighbourhood boasts larger restaurants that tend to open later, proximity to the centre commerciale, Nice Étoile and Galeries Lafayette, and a wide selection of premium properties in Belle Epoque style, with high ceilings and high price tags to match!
Liberation
Before the arrival of the tramway in 2007, this part of town was almost entirely local - off the beaten track for tourists and recommended only for the most persistent purchasers. Since then, its seen something of a renaissance, with its wide boulevards and large properties at lower prices attracting investors and local buyers, although its relative distance from the beach makes it a second choice for renters. Its huge daily market offers the best fresh produce in town, and its local bars and restaurants are becoming increasingly popular.
Contact Dorine on + 33 (0)6 63 59 81 19 for advice on the best part of town to invest in a rental apartment, or to source a reliable realtor.
And finally if you love food and cooking, your trip would not be complete without a visit to Rosa Jackson's kitchen www.petitsfarcis.com
---